Planned Puppyhood
Current/Future Litters: Litter planned for late summer/early fall. There is always a waitlist for our litters. We only place our pups in the best pre-screened homes. If you are interested in a puppy, fill out the online application. Please read the information below first. Click to complete application: [Rossi River Minibulls Puppy Application]
Litter reserved
Litter reserved
Puppy Information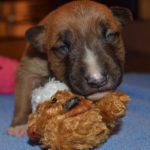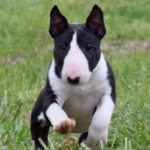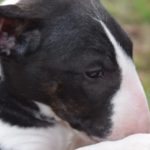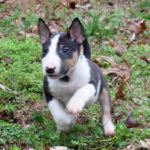 CLICK HERE TO VISIT THE PUPPY DEN



Puppy Application: In order to be considered for a puppy you must complete the puppy application. You are under no commitment after completing the initial application. This simply allows us to begin the pre-screening process. Demand for puppies is extremely high. To increase your chance of obtaining a pup it is best to be negotiable on sex and color. Please keep in mind that we are not obligated to sell our puppies and reserve the right to refuse sale for any reason. Puppy alerts are not a substitute for this application. Review all the information below and then complete the application: [Rossi River Minibulls Puppy Application]
Puppy Purchase: All puppies are sold as pets to the general public. Show-contracts are occasionally available to established breeders/handlers under different terms. Puppies picked up locally are $3,500 dollars (preferred). Shipping can be arranged for an additional $500 to approved homes only. This includes transport cost within the US, vet certificates, crates, travel, and other expenses incurred during the shipment process. Financing is not available on our puppies. International buyers must contact us for transport pricing.
Deposits: Our puppies are valuable. We invest alot of time, energy, and money into producing each and every litter. A deposit of $1,000 dollars is required to reserve a puppy. Please make sure you are willing to commit to the purchase of the puppy before placing a deposit, as deposits are non-refundable. We require the total purchase price be paid in full by the time the puppy reaches 5 weeks old. Failure to do so will result in forfeiture of the puppy.
High-Priority Waitlist: Because of the amount of inquiries we receive about pups, we have a high-priority waitlist. The waitlist is for pre-screened buyers that have already placed a deposit. Pick-order is determined by information provided on the puppy application as well as best-fit for the puppy and potential family. Our subscriber list is only notified of available pups after high-priority buyers have selected their puppies.
Puppy Pick-up: Pictures and/or videos will continually be added to our website after whelping. AKC registration papers, health records, and 12 month health guarantee are provided to all owners. As a courtesy, puppy registration is prepaid for all of our litters. Puppies arrive at their new home up-to-date on vaccinations and veterinary exams, dew claws removed, and ISO microchipped. We utilize 15-digit ISO microchips that operate on 134 kHz because this is the international standard. Take-home puppy packs include important information (new owner instructions, vet records, etc…) as well as an assortment of puppy items we have on hand such as collars, leashes, treats, toys, or a combination of these items. For local pick-ups placement begins when puppies are 9 weeks old. Shipped puppies begin placement at 10 weeks.